BTC Payment
May 23th, 2022
Dear members,

We want to inform you that have Bitcoin payout. You can select now between Paypal, Webmoney and Bitcoin.

Thank You
0 comments
NEW OWNER
September 18th, 2021
I would like to inform all users that I am new owner of Kvador.com and all users will be payout and service will cointinue to working even better than before! Dont need to ask for payout, it will be done user by user. I want to know if you would like to see CRYPTO payout (BTC and ETH) on Kvador?
0 comments
Referrals - Do you want others to make money for you?
January 27th, 2021
Dear members,

Our permanent decision is to pay 15% for each referral member - LIFETIME.

Our business policy is based on keeping the profit margin to a minimum in order to enable as many active members as possible.
This system has proven to be the most cost-effective over the years.

This is a simple conclusion based on what is happening in practice.

We want to point out to you the possibilities that lie ahead.

In the coming period, we will implement a large campaign on all relevant sources of traffic where our services are allowed.

First of all, we mean the torrent sites from which we get the most traffic.

We want you to join and earn extra money.
Some of you will make a serious source of income if they understand the potential in full.

Most of you put in a tremendous amount of effort to make $1/day by posting pictures in many different places.
Why not invest some time in contacting other members who have not yet heard of us?!
You can earn much more.
What is most interesting, others will work for you!

Why not try to take your business to the next level?
Why not become an entrepreneur?
Why don't you try?

Of course, we can't all be entrepreneurs, people are different.
But we want to encourage you to think about it, because you have the opportunity to earn a lot more.

IMPORTANT NOTE:

If you have any serious uploaders who are skeptical and find it difficult to persuade them to test our service, contact us.
We can pay them money in advance and before they start testing. This only applies to members that we estimate can really bring in serious traffic. In any case, contact us, we are here to help you.










Good luck

Kvador Team
0 comments
Deletion start !
May 06th, 2020
Hi members,

As we expected, most members ignore our warnings and wait for the situation to develop.

Ok, we'll do the job for you.

From this point on, we start deleting images from your accounts.
All images that promote child pornography will be deleted.

We want to highlight a few important facts:

1. As of Monday (11-May-2020) we are returning with rates that are higher than ever.

2. No one will be banned for breaking the rules in the past, but all will be banned if breaking the rules in the future. If you are not sure what is allowed, send us a message first and ask us for advice about images that confuse you.

3. Don't waste time on child pornography anymore (this applies to nude and non nude). There are many 18+ teen pictures that you can show to your clients and make money. We took risks for months, ignoring our own rules and eventually fell into the trap because our advertisers do not want to cooperate. No advertisers = no earnings = no payouts !!!

4. All pending payments will be made, we will not take your money, that would be hypocritical. But if you want to work with us in the future, please follow the rules and work only 18+. If you are unable to do so, stop using our services.

Many of the images we delete are collateral damage as they do not violate the rules, but members have not taken seriously that they can edit their accounts. It is now too late to respond, we are deleting all the pictures on accounts with a large percentage of very young children.

We are aware that now you will have a lot of damaged topics in the forums, your earnings will be reduced, more months of work may have been in vain. Also, keep in mind that the owners of these services have the biggest losses.

We simply want a new and healthy foundation without child pornography and those who understand and respect our decision will continue to work with us.
Those who do not want further cooperation with us - thank you for your trust in the past and wish you all the luck and good profit in the future.

We apologize to everyone for the damage and inconvenience due to this whole situation, but we think we are doing a good thing and we will not give up on our goal.

Kvador.com Team
0 comments
Important and urgent notice !!!
May 06th, 2020
Dear members,

Rates are currently down, earnings are lower.

This is a temporary situation and will last until May 11.

This is followed by an increase in earnings on our services. most ever.

However, many members will lose their accounts if they do not delete the disputed images.

PAY ATTENTION:

If you don't have a premium on Sunday morning that expires in 2030, that means you will be removed from our services on Monday. So, you'll have 24 hours to delete all the pictures from your account if you want to keep your existing earnings and keep working. So by Sunday morning we will activate premiums for everyone who is safe and that premium will be valid until 2030. If your premium expires early or you do not have a premium at all, it means that everything will be deleted.

Kvador Team
0 comments
You want 5% more?
April 22th, 2020
Hi members,

Publish your payout screen in our official theme and get an additional 5% on your next payout.

Wjunction.com - Kvador.com official thread

It has to be a picture, not just write "Thank you".
Only through the picture can we determine who it is so we know who to allocate 5% at the next payment.
You may hide your account or part of the payment amount, but some details of the transaction must be visible.

Example :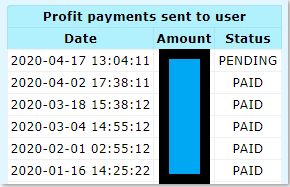 Important : If you want a 5% bonus on each payment you must post new proof on the forum after each payment.

Good luck

Kvador Team
0 comments
themaCreator
April 17th, 2020
Very good news.

Starting today kvador.com is integrated into themaCreator.

We hope that you will now be even more comfortable using our service.

Thank you for your unconditional trust.

Kvador Team
0 comments
New server
October 30th, 2019
Dear members,

All data is currently migrating to a new server.

That new server is much faster and stronger than the current server.

If you sometimes have slower performance on sites, the reason is data migration, which puts additional strain on our existing server.

Once the migration is complete, we will stop uploading for a few hours until all your data is synchronized.

You will be informed on time when the upload will be stopped so that you can organize your work on our sites.

Thank you very much for your understanding and we wish you even more money on a new and stronger server.

Kvador Team
0 comments
Skrill - a new payment option !!!
October 12th, 2019
Dear members,




You can also receive your money in Skrill accounts.

Good luck

Kvador Team
0 comments
BTC Payment
October 11th, 2019
Dear members,

Do you want a bitcoin payment option on our services?

Write YES or NO to our contact mail : bitcoin@picbaron.com

We want to know if there are a sufficient number of interested members, because we do not want a small number of transactions in this currency.

Thank You
0 comments
Good news for all members !
September 05th, 2019
Dear members,

Starting on Monday (16-Sep-2019), we start with regular WMZ payments of a maximum of 48 hours waiting.

We have redirected payments to several networks and now the WebMoney account will be charged as evenly as PayPal.

This is certainly good news, but we want to emphasize that our most serious members have never objected to being late because they clearly believe us unconditionally.
That is why we are very happy and proud. It is a sign that we are continually doing a good job in the interest of all of us.

Also, there is a possibility of a significant increase in our rates in early October, but it is too early to talk about the details.

Thank you all for your cooperation, understanding and patience.

Good luck

Kvador Team


0 comments
Why the payment is late ?!
August 27th, 2019
Dear members,

WMZ payments should be processed no later than Monday (02-Sep-2019).

The problem is technical in nature because it is very difficult to find up with large amounts of this currency.
But we still succeed every month, with a slight delay.

We often get questions about late, people are worried.

It is important for you to understand that this is always a technical problem and that our finances are very stable.

P.S. Paypal payments are pending at most 48 hours.

Your Kvador Team


0 comments
© Kvador.com 2019-2021.